Promotional products have been around for over two hundred years. One of the oldest and most successful promotional products is the promotional bag. The first imprinted bag was a burlap sack that read "Buy Cantwell Shoes." Ever since the promotional bag has took off and you can find them at events, shows, conventions and more.

Why are promotional bags so popular? We'll list the three reasons and factors that have placed promotional bags as one of the more smarter and effective promotional product choices.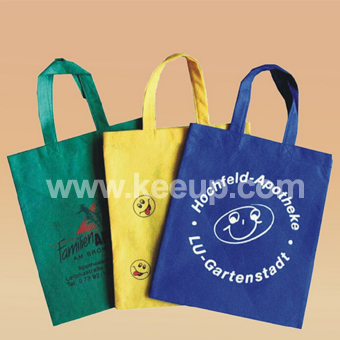 1.) Display of the bag
Promotional products are consistently at work. Bags serve a purpose and they are used. They are in sight for everyone to see and more likely then not will be reused. This ensures that a company will receive maximum exposure with this promotional product.
2.) Variety
There are literally thousands of bags to choose from. Deciding on the style of the bag is most important; paper, plastic, tote bags, backpacks and more. Once you've narrowed down the style of the bag you then have the color and the size to choose from. Once you determine size and color you then have many options for the artwork or message that you would like to get across to your audience. The options given are unlimited thus being a great choice for companies of all industries and sizes.
3.) Cost Effectiveness
It is important to choose a promotional product that is appropriate for the event and productive in getting your company noticed. With that being said, everyone has budgets and a budget is as important as the product. Promotional bags are such a popular choice because many bags are priced under a dollar.
These paper and plastic bags are fundamental to trade show giveaways worldwide. As visitors collect freebies or buy items from different stations at tradeshows, events and conferences they need a place to store their items.
With three major benefits like that it's not surprise why the promotional bag is one of the most popular promotional product choices. As always, before purchasing a promotional product make sure you put yourself in your audiences or clients shoes. Is this product going to benefit them? Do they need it? Will your message and image definitely reach your targeted audience? If your answer is no to all of those questions: Second guess what promotional product you are going to buy, or you could be throwing your marketing money right out the window.