After Decades of using Plastic Bags for Carrying, Shopping & Promotional Activities, people tend to get boredom & look to replace with something which is new, modern, trendy, attractive, exclusive yet economical. Jute bags, Cotton bags were the substitutes but the price factor doesn't help them compete.
The evolution of Non Woven Bags filled the vacuum with its sheer vibrancy of colours, smoothness of textures, variety of woven, patterns & designs.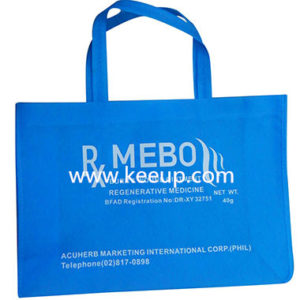 The Properties of Non-woven Bags are :
1. Reusable 2. Recyclable 3. Exclusive yet Economical 4. Variety of Colors & Thickness Available 5. Scratch Free 6. Smear Proof 7. Washable to name a few.
Non Woven Bags As Carrier Bags:
Supermarkets, Hypermarkets tend to find bags which are economical, low range as they have to pack stuffs & give to their clients without charging a single pie for it. The ultrasonic machines which has high speed having capacity to manufacture almost lac bags per day helped manufacture D cut Non Woven bags & U Cut Non-Woven bags at low cost, nearly the cost of such bags going as same as Plastic Bags of same size. The flexibility of customized sizes, various thickness & printing options made it a natural big choice for people to use & reuse it in the most economical way.
The Ultrasonic U Cut Non Woven Bags have broad side Gazette or boxes on sides which enables them to pack items of any Dimension & Sizes.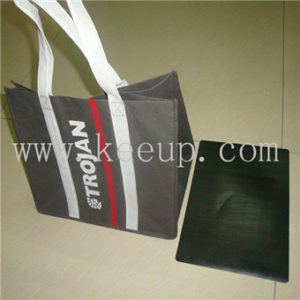 Non Woven Bags As Shopping Bags
Suppose a lady going for shopping needs to pack her Wallets, Napkins, Children Cloths or Diapers etc. in a certain type of bag which can be easily carried, can be tucked on to the shoulder; What is the best option in your view?The Hand Stitched Non Woven Shopping Bags are a perfect fit for such applications.
Handstitched Non Woven Bags are comparatively made in higher thickness, are hand stitched to carry enough weight, can be zipped for security & can be partitioned into various sections.
In addition, these bags are light weight & if the handles are stitched long enough, people can easily carry on the shoulders & the bags can be embedded with stones, designer artifacts printed with custom messages make it look more trendy & exquisite. All these properties helped non woven create its own niche market in a short span of time.Non-Woven Bags For Promotion, Exhibition & Trade Fairs
It is advisable to custom non woven bags from us and imprinted your logo on it. You can easily wholesale non woven bags at very affordable prices on the internet. It would be considerably to wholesale promotional items from us since we are professional promotional products and custom made products manufacturer in China.