Summer is coming with hot weather, and most people begin to take actions to protect themselves from the ultraviolet ray. When you hanging out on the street, you will find that most people include women and children choose the sun visor cap as their sun block magic weapon. Why are these sun visor hat are so popular? The vendor said that these kind of hat has a protective effect, it can prevent ultraviolet ray and prevent the sun hurt your eyes. And everybody loves it.
The sun visor hat material is still rich and colorful, nylon, straw, linen, yarn quality, cotton and so on, and the style is changing, whether it is from the pattern color or style modeling gives you a new feeling.


The keeup, a professional supplier for Promotional Items and Customized Products with more than 10 years experience. And offers all kinds of Promotional Products and Custom Printed items to worldwide customers, include the sun visor cap.The keeup is a trustworthy supplier of wholesale promotional products China. And we offer all kinds of Customized Sun Visor Caps, the most popular sun visor cap is made of cotton. Color to black and white color-based, there are many beautiful prints are very suitable for young girls.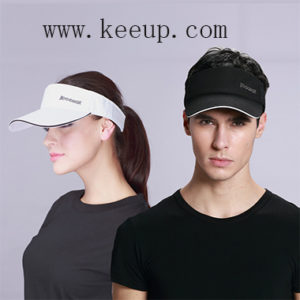 The sun visor cap we offer you are proven durable and long lasting for purposes of holding, advertisement or marketing. They are also designed differently to suit large mass of clients' taste and needs. High quality sun visor cap china suppliers produce caps that centered on satisfying customers in terms of the cap's design and price. Most of the cap items are stylishly printed to encourage market clients to advertisement and even for promotional idea. Generally, these caps are made with the customers' needs and desire as their guide and center point.
What are you waiting for? Come on and buy your summer protection "magic weapon"!